We arrived in Cancun on a Friday about 4:30 pm. We got out bags and cleared customs. Travelers tip: If you are flying in to Cancun with two or more people, after you clear customs, one of you should wait for the bags - the other should go immediately to stand in line for the exit. The exit requires every piece of luggage to be x-
rayed
and the line does not move quickly. We did not do this and it would have saved us about 20 minutes (and we were at the front of the line!)
We came outside and looked around for our ride. Suddenly we realized that we had no way to get a hold of our friends we were meeting in Cancun and didn't even have a random plan of where to meet up. So as my mother always said, "If you get lost, stand still and I will find you." So I left Lyle and all the luggage standing and wandered off in search of people.
Ricky & Brad arrived about 15 minutes later. We were faster out of customs than they had thought we'd be and there had been an overturned cement truck blocking the road to the airport. No biggie.
We never saw Cancun. We drove out of the airport, turned right, went about a half a mile, turned right and we were on a two lane road cut out of the middle of the jungle that went straight for ever. We were driving across the peninsula for the next 4 hours to the capitol of the Yucatan,
Merida
.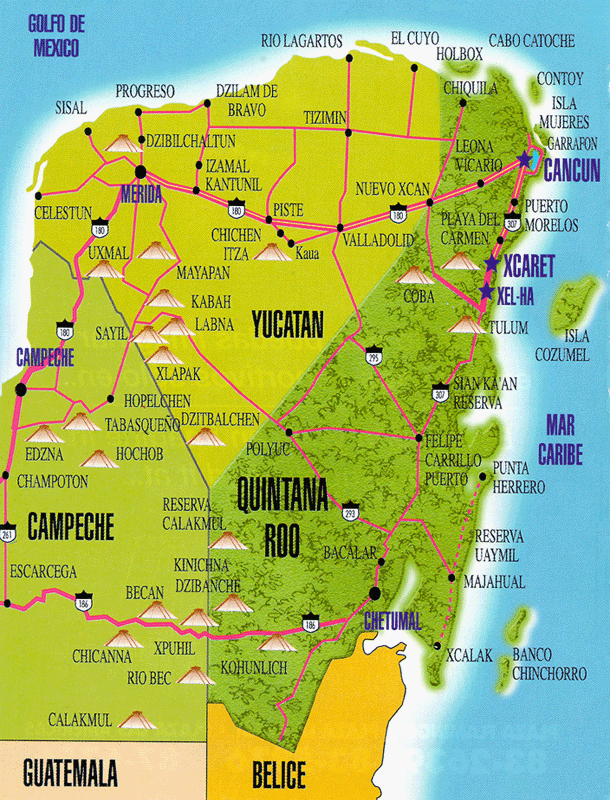 It was going to be a long drive, so we stopped about an hour into the ride and got bad road trip food.
Then it was back to the drive. Arriving in
Merida
at night, fatigued, the city seemed dark, closed off and none to inviting. Just a first impression after the swirl of sights, sounds and smells from following numerous buses and shuttles into the city.
We checked into our hotel,
Casa
Mexilio
, quickly changed out of our travel clothes (think floral curtain
Lederhosen
from the Von
Trapp
Family estate) and went out into the city on foot.
Without the car surrounding us the scale of the city became much more inviting. The city of
Merida
has that hot southern climate architecture of plain walls facing the street giving nothing away while inside there are courtyards, patios and gracious living spaces kept private for the residents.
Ricky and Brad have been to
Merida
previously and guided us to a restaurant called "
Panchos
" that has one of those amazing inner courtyards that is filled with trees, indirect lighting, music, good food and booze. (
Panchos
-
Calle
59 No. 509 between 60 and 62, Downtown)
We took a slight detour through the town square after dinner and headed back to our hotel. Sleep is how I wanted to begin my Mexico holiday. Blissful sleep.
Oh, a quick note about our hotel. If you go
their website
, you can see photos of each of our rooms. We stayed in the
Paolo

Cetina
room. Interesting to note when you look at the photos of the room their bathroom is up the stairs behind the bed. On the next floor up, with no door. The window looked out over the courtyard and the shutters did not close completely. Very rustic and quirky (by the way, I loved it) but difficult to relax in the
baños
wondering if someone was going to appear on the rooftop terrace and wave hello. Ricky & Brad stayed in the
La

Kejera
room which was named after the large old orange tree that was taken out to make way for the room itself.